A Latin American staple, Pan Cubano is a Cuban bread similar to a French baguette, except it is made using lard and sugar.
They are usually made in long baguette loaves to be the base of many scrumptious different Cuban sandwich fillers.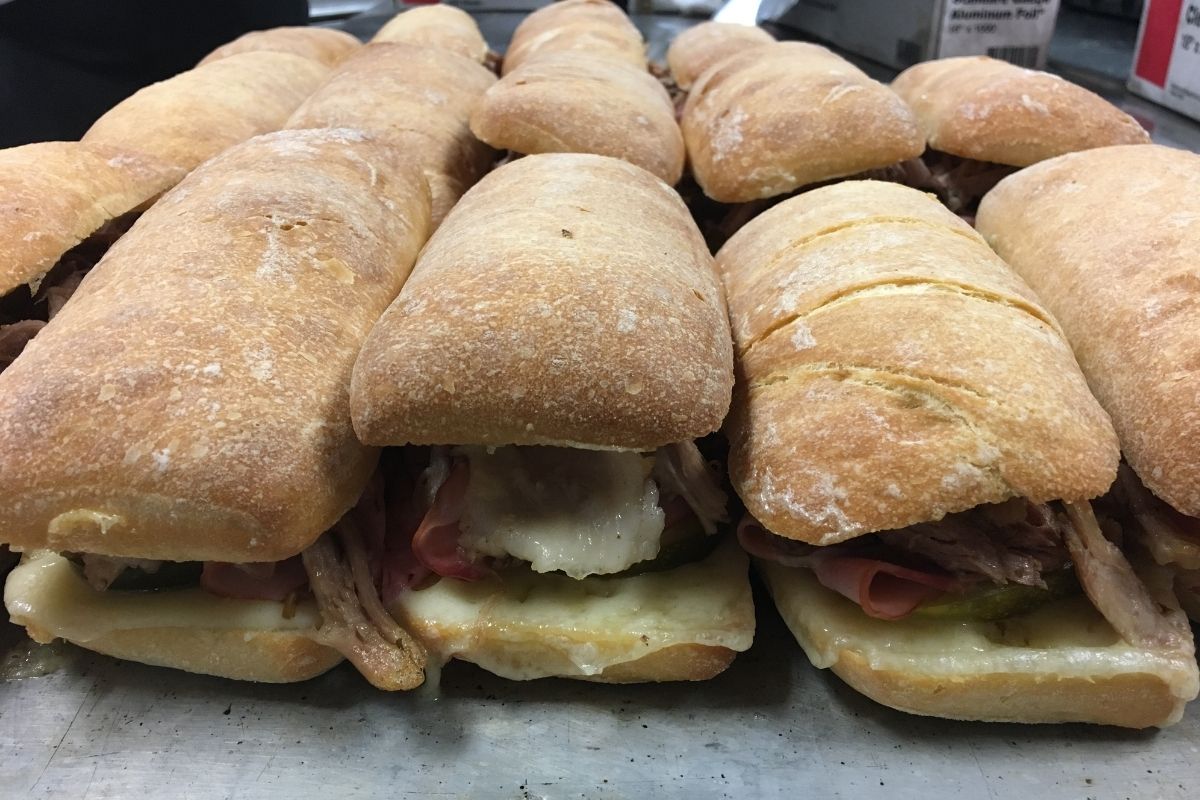 In this article, we are going to tell you everything you need to know about Cuban bread, including how exactly it is different from any other bread, what it is best paired with, and the history behind it.
So what are we waiting for? Let's get into it.
What Is Cuban Bread And How Is It Different?
Cuban bread, or Pan Cubana, is a type of bread that is not dissimilar to French or Italian bread. It is a fairly simply made white loaf that is the traditional choice for an authentic Cuban sandwich.
What makes Cuban bread different from other types of bread, is the method with which it is baked, as well as the ingredients used to make it.
This type of bread is a staple in Cuban-American cuisine and is used in a lot of different sandwiches and dishes.
Cuban bread uses a small amount of fat in the form of lard or vegetable shortening in the recipe, as well as the addition of sugar.
The sugar creates a slightly sweet taste, whereas the lard provides a heavier and richer flavor.
The only downside to this, however, is that it does mean that the loaf dries out quicker – so the bread is best enjoyed on the day it was baked!
History Of Cuban Bread
When it comes to the origin of Cuban bread, the truth is unknown. Miami, Tampa, and Florida each claim to be the home of the bread but no one knows for sure.
The first time it was seen in a commercial bakery in the U.S was back in 1896. Sicilian-born Francisco Ferlita sold the bread in their established bakery 'La Joven Francesca' in Tampa.
The bread was sold originally for 3 to 5 cents and many were delivered to houses with the morning milk delivery.
In fact, back then houses in this city had a sturdy nail in the door frame on their front porch, which the delivery man would use to impale the fresh loaf of bread on.
This bakery ended up being destroyed by a fire in 1922, which left only the brick bread oven standing in the rubble.
Eventually, the bakery was rebuilt and even expanded and soon became one of the biggest suppliers of bread in the Tampa area.
The bakery ended up closing back in 1973 but found new life as the Ybor City State museum, where the original brick bread ovens remain to this day.
The largest bakery producing Cuban bread in the world is La Segunda Bakery, which is based in Ybor City, Tampa just like the original bakery of the bread was.
It ships bread all over the world and was co-founded by Juan More who migrated to Tampa from Spain via Cuba.
The bakery uses traditional bread-making techniques as well as traditional Cuban bread recipes.
Characteristics Of Cuban Bread
Cuban bread is very distinctive and you should be able to tell when you are looking at a loaf of Cuban bread simply by its appearance.
The loaves are usually three feet in length and almost rectangular – especially when compared to the round shape of an Italian or french bread loaf.
Cuban bread is hard and thin, with an almost papery roasted toast and a soft and flaky center.
The bread's distinctive air pockets and rectangular shape were created so that the dough would last by stretching it thin.
A common and traditional technique for making this bread is to lay a long, moist palmetto frond on top of the loaves before baking, which is later removed.
They do this to create a shallow trench in the upper crust which creates a similar effect to the slashing or scoring of French and Italian bread.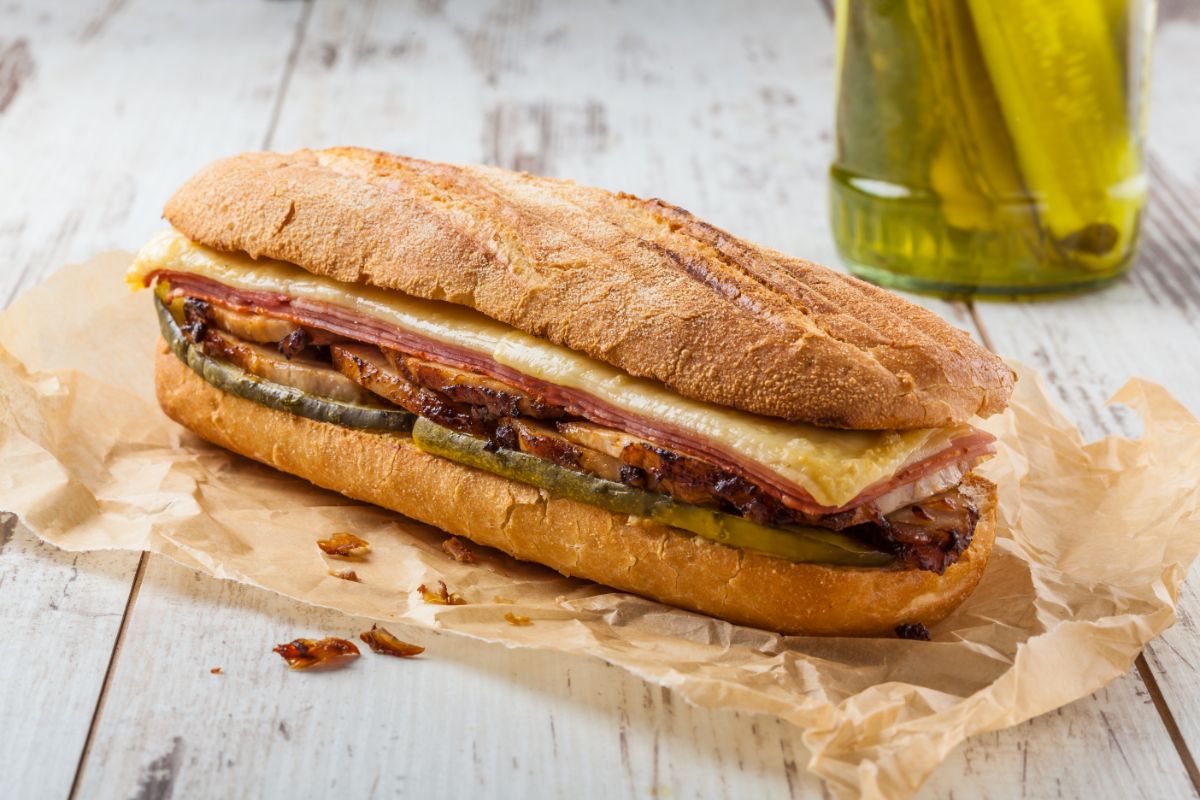 If you want to eat a Cuban sandwich, then Cuban bread is essential. The bread can be served for lunch, breakfast, or dinner.
For breakfast,t it can be served simply toasted with butter and is often dipped into a mug of hot Cuban coffee – known as cafe con Leche, which is a strong dark-roasted Cuban coffee bean with scalded milk.
The traditional recipe for this bread doesn't use any preservatives, which means that it tends to go stale very quickly – hence why you should eat it soon after it has been baked.
They can however be frozen if they need to be stored or shipped. Cuban bread is a key ingredient in other dishes such as deviled crab.
Best Sandwich Fillings For Cuban Bread
The classic and easily most popular Cuban sandwich is a Cuban bread loaf, filled with ham, swiss cheese, pork, pickles, and mustard.
It is a delicious blend of flavors that the Cuban loaf perfectly complements.
How To Make Cuban Bread
Now that we know all about Cuban bread, here is a recipe so that you can bake your own!
Ingredients
You Will Need:
Half a Teaspoon Active Dry Yeast
Half Cup Warm Water
Half Cup Flour
1 Package Active Dry Yeast
2 Teaspoons White Sugar
¾ Cup Warm Water
3 Tablespoons Lard
2 Teaspoons Fine Salt
3 Cups All-Purpose Flour
1 Tablespoon Cornmeal
Water to Spray Top of Loaves
Prep: 25 Minutes
Cooking: 20 Minutes
Additional: 11 and a half Hours
Servings: 12 People, 2 Loaves
Directions
Combine warm water, yeast, and flour in a bowl and whisk until blended. Cover with plastic wrap and put in the fridge overnight.
Combine yeast, sugar, and water into a mixing bowl and leave for 15 minutes to ensure the yeast is alive. Add lard, salt, and flour, and mix until you have a sticky ball. Add the mixture made yesterday.
Knead dough on a floured surface until it forms a tight ball.
Return dough to the bowl and coat the surface with oil. Cover with a damp cloth and place in a warm place to rise. Let it rise for at least 2 hours or until it has doubled in size.
Line two baking sheets with parchment paper and transfer the dough.
Lightly press the dough into a rectangle with your hands.
Preheat the oven to 400 degrees Fahrenheit and cut a ¼-inch deep slit down the top of the loaf with a sharp knife. Mist the loaves lightly with water.
Back the loaf for 20-30 minutes, checking to make sure it isn't burning. Once ready, place on a cooling rack and let it cool to room temperature before slicing, serving, and enjoying.
Final Thoughts
Cuban bread is a super yummy delicacy that can be used in a variety of different ways. The bread can be enjoyed as the base of a sandwich, dipped in coffee, or even toasted with butter.
Always make sure that you enjoy your Cuban bread when it has been freshly baked to ensure that it isn't stale and it is as yummy and enjoyable as can be!
What do you think of Cuban bread? Do you prefer it to other loaves of bread such as French or Italian sticks?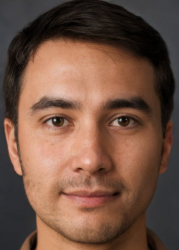 Latest posts by Jim Stanton
(see all)