Just picking a destination you'd like to visit and traveling there is the norm for most heterosexuals.
However, this is not a privilege that those in the LGBTQ community always have.
Discrimination is something faced daily, and it is no different when it comes to picking a holiday destination. Further research into a country and the values of that destination is usually required to ensure your safety.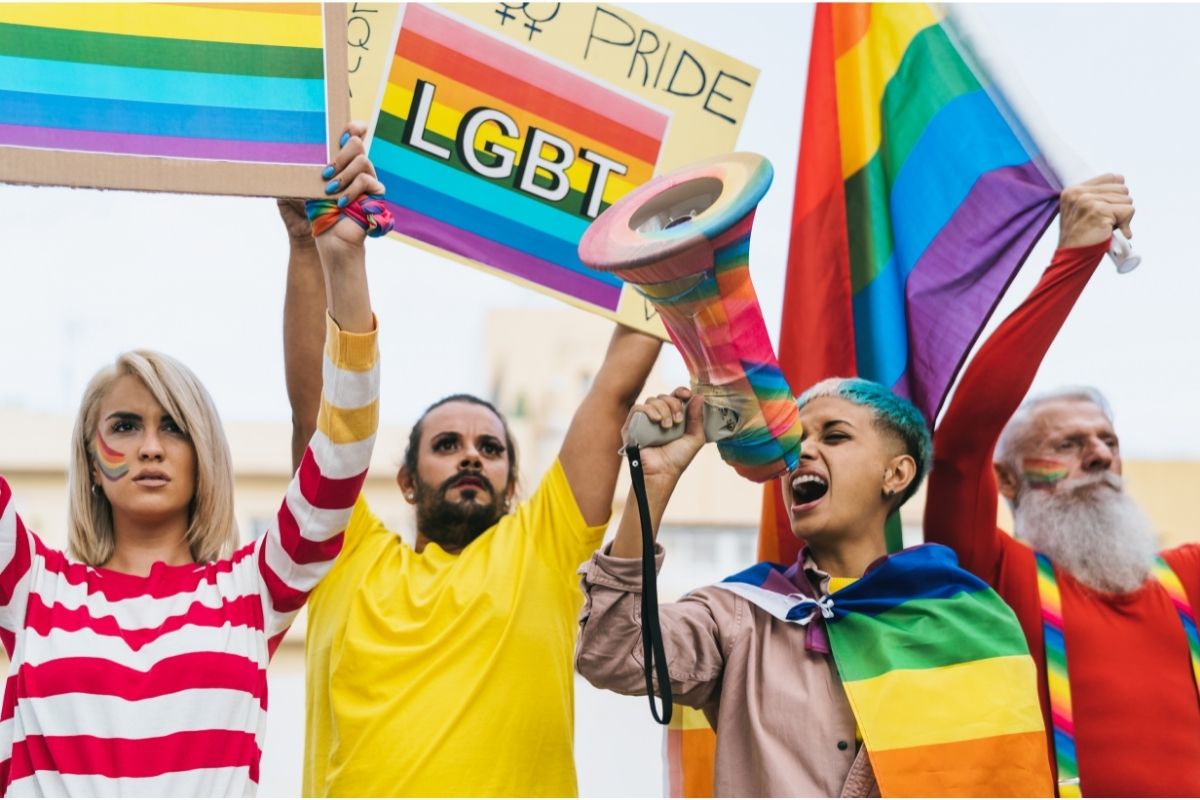 This is why I have put together the ultimate guide for those who would like to experience Queer Cuba.
Throughout this article, we will go through some candid advice on safely traveling around Cuba, which of Havannas's gay bars and clubs are the best, as well as exploring Santa Clara's liberal city and Mi Cayito which is Cuba's Gay Beach. 
History Of Cuba's Sexual Politics
While it's true that in the latter years there has been something of a sexual rebellion happening in Cuba, it has not always been this way.
The early years of this battle, have been very difficult for those in the community. In fact members of the LGBTQ community have been treated horrendously for many years in Cuba, with homosexuality being described as ideological diversionism.
And at the beginning of this sexual revolution, many were forcibly moved to work camps. 
Homosexuality was still illegal in Cuba until 1979 and it wasn't actually recognized as a sexual orientation until 1986.
But while liberalization has been slow and steady in its progress, progress has been made all the same. 
Jump forward just over a decade and the community begins to fight for free gender-reassignment surgery which was happening by 2008. In 2012 the country had its very first transgender politician.
Fast-forward again to now, and Cuba is a much more welcoming and accepting country than it has ever been. There are yearly gay pride parades that can be seen throughout the country as well as a thriving gay nightlife. Members of the LGBTQ community now bravely wave their pride flags high – so if there's a time for LQBTQ travelers to experience Cuba, it's now.
Some Honest Advice For Travelling To Cuba
Cuba was actually voted Safest Travel Destination for 2018 and is a predominantly non-violent and safe place to travel.
If you want a trip to a Caribbean country, it is also one of the most accepting of all sexualities.
You should be able to enjoy your trip overtly without feeling a need to be closed off about your relationship. 
That being said, PDAs (public displays of affection) between homosexuals are fairly uncommon as its society is still fairly conservative.
You should also consider that there seems to be more acceptance for queer males than there is for lesbians.
There is steadily increasing visibility for those who are transgender or 'travestis' as the Cubans will say.
Of course, as is, unfortunately, the case with every country, I cannot guarantee that you will not come into contact with some ignorance or prejudice throughout your trip.
While for the most part, locals will be very tolerant, there are always the few who are exceptions to the rule.
And while you may be accepted with fairly welcome arms in Havana if you travel to different provinces you may find they are not as liberal.
This means if you do travel outside of Havana you may need to carefully consider the social context of where you are in order to stay safe, regardless of how wrong this may be. 
Gar Bar's And Clubs
Throughout the years, gay nightlife has really begun to flourish, so you'll be happy to know that you won't be stuck for party destinations! Thanks to the private enterprises being made legal on the island, there is now an abundance of vibrant party life to choose from.
If you're looking to cram your itinerary full of gay bars, clubs, or cocktail bars, you've come to the right place. Here is a list of the venues that you won't want to miss out on. 
Proyecto Divino
Every Saturday night you'll find one of the most monumental parties in the whole of Havana.
Cafe Cantante, which you'll find in the basement at Cuba's National Theatre is a favorite for any member of the LGBTQ community. 
Here you'll find party-goers dressed in drag, or dancing erotically, as well as performances from popular Cuban artists. Proyecto Divino is by far the most popular act that you'll see while you're there.
But make sure that you've caught up on all your sleep as these parties have a tendency to go all through the night and on into sunrise. 
Don't worry though, there are cabs nearby so that you can safely make your way home no matter how hungover (or still inebriated) you may be.
Information: Cafe Cantante, Calle Paseo y 39, Vedado
+53 878 4275
Saturday 11pm – 6am
La Esencia
This is a gay-friendly restaurant and club which is situated in a devastatingly beautiful mansion built back in 1880. This is a venue you simply cannot miss. It is also arguable the hottest club in Havanna at the moment.
If you visit on a Monday, you will have the privilege of experiencing the 'diverse parties' that they host.
At these, you will enjoy performances from some of the most famous Drag Queens Cuba has to offer. 
But if you thought the party stopped there, you'd be wrong. It's not just Mondays that you'll want to visit this mansion, as almost every night there is some theme that you'll love.
Often you'll find that it's mainly a mix of club classics, salsa, and reggaeton songs so you're sure to have something you can dance along to all night long. 
Now, this club isn't for the faint-hearted, as scenes inside this club get pretty raunchy.
If things heat up a little too much for your liking, you could always take a wander to the restaurant bar to guzzle down a delicious cocktail or take a walk outside to the beautifully charming porch where you can admire the starry Havana sky. 
There's a magic to this place that is like no other – it's a must to visit!
Information: Calle B no.153 e/Calzada y Linea, Vedado
+53 7 836 3031
Monday – Sunday: 6pm – 3am
Cabaret Las Vegas
This club is state-owned but is often teaming with productions from iconically amazing Drag Queens known around Cuba such as Blanquita, Ashenal, and Imperio.
This club is actually often referred to as a gay landmark within Cuba, more specifically, in Havana. 
While this venue may seem small and nowhere near as grand as some of the previously mentioned venues, it will often have large queues of people desperate to get inside – so they're certainly doing something right.
If you're hoping to find a rich variety of clientele, then this is the venue for you.
From locals to tourists, homosexuals to heterosexuals, you'll find them all enjoying this party.
The professional drag shows and erotic dances are highly reviewed especially given the limited state funding and resources. 
Information: Calle Infanta No. 204, esquina 25, Vedado
+53 836 7939
Monday – Sunday: 4pm-8pm & 10pm-3am
Madrigal Bar
The madrigal bar is aesthetically one of my absolute favorite gay bars to choose from. It is situated on the second floor of an old colonial house that is found in the center of Vedado.
If you're looking for the atmospheric artsy vibe, then this has your name written all over it. 
 It is owned by a Cuban filmmaker which explains the amazing set-like feel to it. It is a great place where both locals and tourists can come together to mingle.
Whether you want a tasty cocktail in the wonderfully decorated bar, or perhaps a lovely view from the terrace balcony, this gorgeous restaurant has it all. 
And if you're lucky enough to drop in at the right moment, you'll even have the soothing sounds of jazz to listen to as you sip away.
Information: 17 No. 302 e/ 2 y 4, Vedado
+53 7 831 2433
Tuesday – Sunday – 6pm-12am
Friday – Saturday – 6pm-4am
King Bar
Another favorite found in Vedado's trendy neighborhood is the King Bar.
The whole premise of this bar is having a great time and breaking boundaries – so if these are things you like, it is a great place to plan to visit. 
This club has a great variety of choices for drinks too, so if you'd like to treat your tastebuds, this is the place to be.
Drinks are usually only around $3-5 CUC and if that isn't cheap enough, there's also a happy hour if you can get there between 5pm-8pm.
And if all of that still wasn't enough, at this time you can also save up to 50% off any cocktails or beers.
I don't know about you but that sounds like a deal I just wouldn't be able to turn down. 
Don't worry if you get peckish either, as this club offers some of the absolute tastiest dishes in El Vedado.
Whether you're a fan of fish, meat, or are vegetarian there will be mouth-watering food suitable for you.
What better way is there to soak up all that alcohol after all? 
Information: Calle 23 e/ D y E, Vedado
+53 7 833 0556
Monday – Sunday: 7pm-3am
Fashion Bar La Habana
Last but not least, we have the Fashion Bar. Now, this is a ridiculously extra and outrageously camp extravaganza.
As soon as you walk in you'll be faced with countless topless hunky waiters who greet you from the very door you enter from.
These beautiful boys will be around to attend to any need you have throughout the night and honesty it's worth the visit just for the sexy staff alone! 
The show itself is an amazing blend of drag, comedy skits, erotic dancing, and amateur aerobics as well as some interpretive dance.
Through the interludes, you will also find that there is plenty of information given on how to practice safe sex, and which politically correct phrases to use to ensure a safe and protected environment for all party-goers.
Information: San Juan de Dios, esq. A Aguacate, Habana Vieja
+53 7 867 1676
Saturday: 9pm-4am
Mi Cayito's Unofficial Gay Beach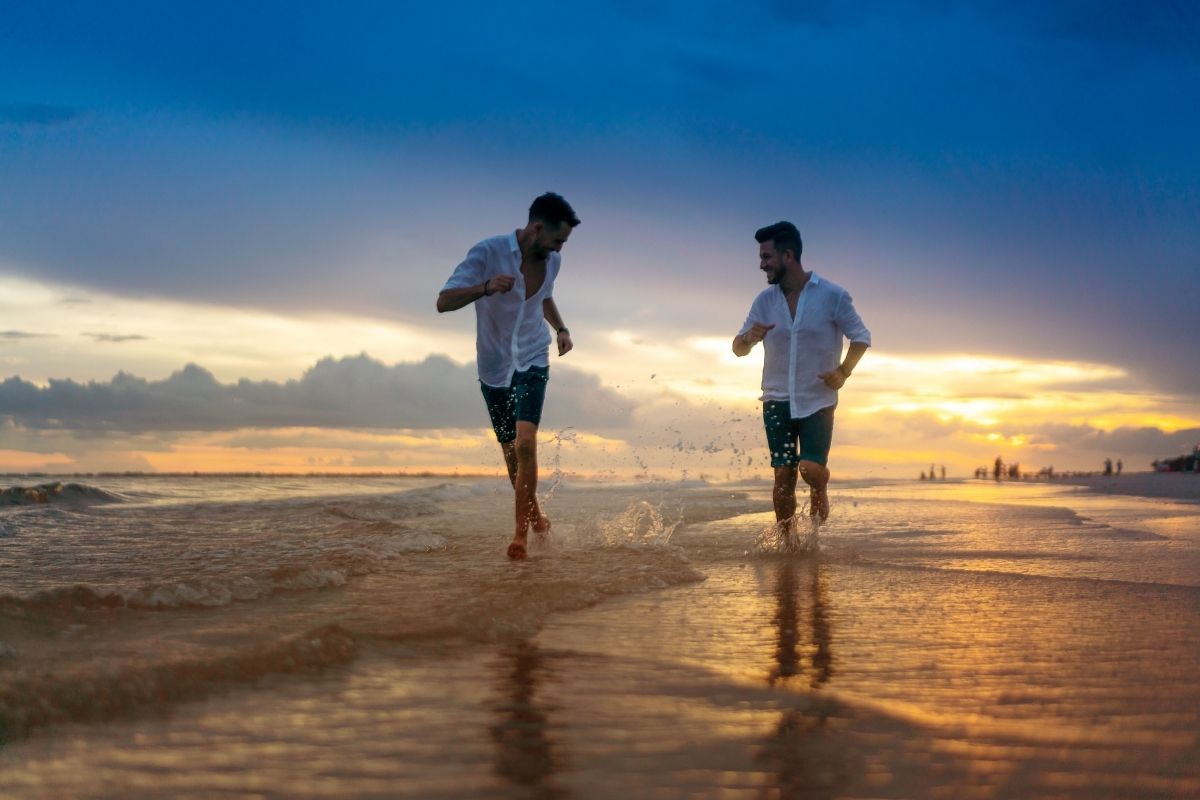 Hidden across the heavily Cuba coastline, you will find the  Mi Cayito beach.
While it may be slightly smaller than other beaches across the coast, it is no less stunning or serene.
This beach can be found close to the capital of Cuba, just between popular beaches such as Boca Ciega and Santa Maria del Mar. 
What is so special about this beach is that it is Cuba's only openly gay beach. In fact, here sexual freedom is not only welcomed but it's celebrated.
It is the perfect destination for those that do not want to hide who they are, in a destination that can be seen as heavily conservative. 
And although it may be smaller than some of the more famously known beaches, it still offers absolutely everything you'll need to have the ultimate beach day, so don't worry there is no compromising the enjoyment of your experience.
Sun loungers, umbrellas, local restaurants, and much more are all at your disposal.
You can even purchase yourself a cheeky cocktail from Las Palmitas. While you're there you might as well also try the mouth-watering Cuban food that they offer too. 
From Parque Central, you'll be looking at about an hour on the bus to travel here, but don't worry, you'll be pleased to know the buses are air-conditioned.
They're also relatively cheap too, only costing around 5 CUC for a roundtrip ticket. But if the bus doesn't seem like your style for an extra 10 CUC you could always opt to travel via taxi. 
Santa Clara: La Ciudad Liberal (The Liberal City)
Any member of the LGBTQ community that finds themselves in Cuba really needs to make sure they make time to visit Santa Clara.
It was once named after its historical ties to a late revolutionary figure Santa Clara, but it has since become the political core for LGBT activism and is also seen as Cuba's main gay landmark. 
This city has morphed into a place of sensual freedom, where gender expectations are challenged without judgment.
And we actually have a Drag Show to thank. The 'El Mejunje' ('The Mixture') unveiled it's very first drag show way back in 1989.
This caused ripples throughout the city that completely changed all preconceptions of sexuality and gender, not just throughout the city, but the whole of Cuba. If you are looking for a city full of relevant LGBT history, this place is brimming full of it. 
Santa Clara is a university city that is full of life and youth and the atmosphere here is honestly unmatched.
It is found right in the center of Cuba and so if you are traveling to destinations such as Cienfuegos, Trinidad, or Cayo Santa Maria, you need to leave yourself a couple of spare days to stop off and tour this gorgeous city. 
El Mujunje
This is the cultural center and nightclub that has been established since the late 1980s. No trip to Santa Clara is complete without visiting here.
El Mujunje's purpose is to collectively bring together people from any walk of life who are all celebrated and welcomed.
It's really just a place for those who may feel marginalized to feel welcome, and accepted, and for them to have a really great time – what could be better? 
This is where you can find the ultimate tolerance and safety throughout the whole of Cuba.
It's also a popular venue amongst locals too, there is always a buzzing crowd enjoying performances from drag to traditional Cuban music. 
El Mujunje was an institution for tolerance and acceptance, not just for homosexuality, but just to create a more open-minded community in general.
It was a safe space for anyone that needed it, whether that was queer people, HIV sufferers, drag queens, or rockers. It was more specifically geared towards anyone who was at the time marginalized in Cuba. 
Here is really an anything-goes policy, so it's really a fantastic port of call for anyone who feels marginalized or often experiences prejudice to escape from the pressures of a more conservative society.
Final Thoughts
While there are certainly still parts of Cuba that haven't caught up with the more modern views of sexual orientation and gender identity, it has come on leaps and bounds from where the revolution began decades ago.
If you are planning to visit Cuba, I would recommend staying in Havana as of all the provinces it is by far the most accepting, though there is still work to be done, as queer men seem to be accepted much more here than that of queer women.
While there are fewer prejudices in Havana, PDAs in the streets are still seen as slightly taboo. 
There are, however, now plenty of places throughout Havana where homosexuality is not only accepted but in fact celebrated.
If you are hoping to find a destination with plentiful gay nightlife then Cuba is sure not to disappoint.
Whether you'd prefer an all-nighter party style club or a more understated cocktail club with fancy decor and beautiful balconies, there is an option for all.
Most clubs all stay open till early hours too, with live music, and performance acts taking to the stage throughout the whole night.
However, if you're not much for drinking and dancing until the early hours of the morning, there are still plenty of options for a great break away.
Mi Cayito's openly gay beach is perfect for all beach bums that would like to lounge on a sunbed all day and catch a tan in the relentless Cuban sun.
And Santa Clara's liberal city allows for the perfect day out for those who want to explore a city rich in history and diversity and acceptance. 
Whichever holiday you choose, hopefully, this guide will have helped you build the perfect itinerary so that you can have the time of your life from the second the plane takes off for Havana!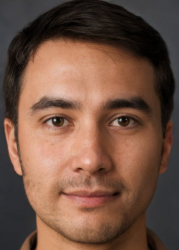 Latest posts by Jim Stanton
(see all)