Vinales is definitely a less popular tourist destination compared to the likes of Havana. However, it certainly shouldn't be.
Vinales is one of the unsung heroes of Cuba.
It is a gorgeous town within Western Cuba and its main streets are lined with stunning colonial-era wooden houses that are sure to send you back in time.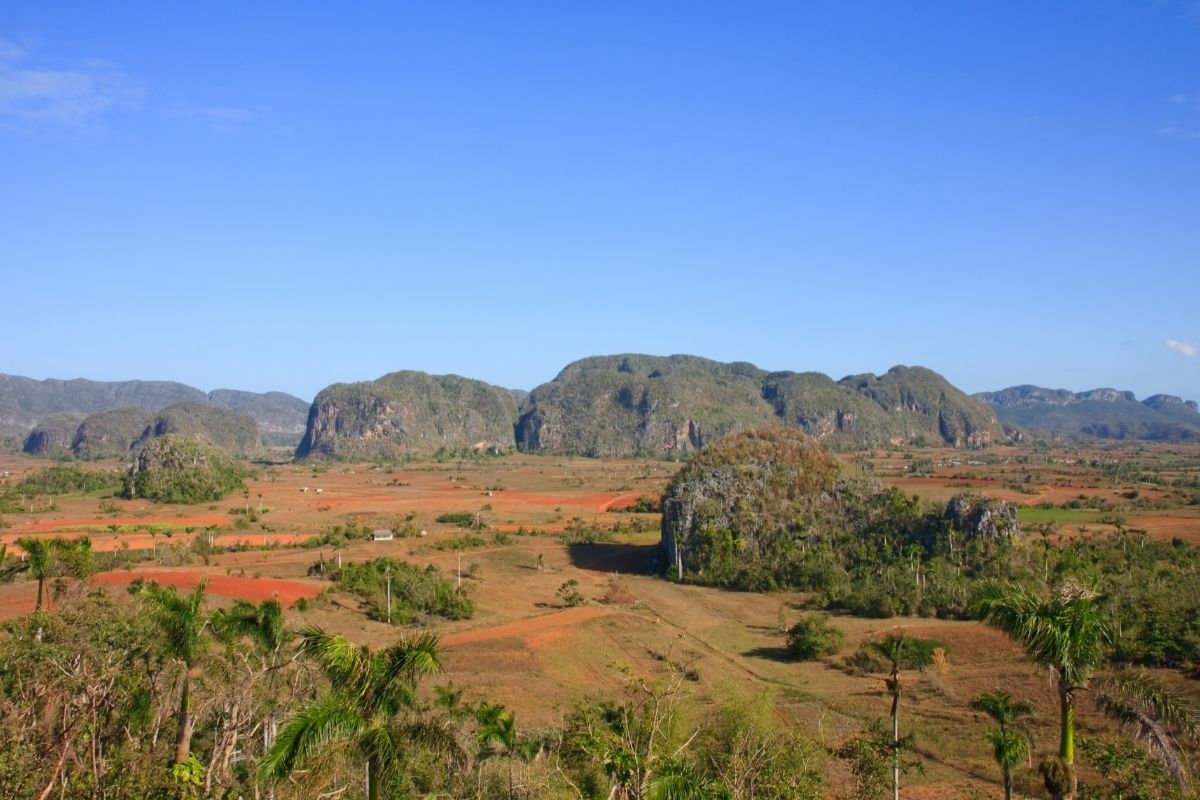 If you're looking for unparalleled views, visits to historical museums, strolls through botanical gardens that are filled with palms and orchids, limestone hills, and fantastic valleys.
Then this is the place for you.
Although there isn't much city life here, it is fantastic for all avid sightseers.
I can promise you that you'll be hard-pushed to find any view that can compare to that of Vinales.
Here are my Top 10 reasons why Vinales needs to find its way onto your Cuba Itinerary.
Top Ten Reasons You'll Love Vinales
The Journey To Vinales Is Beautifully Scenic
Found in the Vinales Vally, in Pinar del Rio, the journey to Vinales I can promise is a route unlike any other.
To travel to Vinales you will have to pass through the most picturesque landscapes you could imagine – what a hardship!
It is also any driver's dream as it's very rare that you'll find yourself stuck in any traffic, so roll down the windows, blast your music and take in the breathtaking sights along the way.
When planning out your itinerary, I'd advise giving yourself an extra hour or so for the journey ahead, as I can guarantee you'll be pulling over more than once to capture these beautiful sights on camera.
If you're not driving yourself, you can always ask your taxi driver to pull over occasionally – this is something they will be used to.
But of course, you won't be able to stop quite as many times as you're tempted or you might rack up a rather hefty bill.
Slow Paced And Serene
Opposed to the massive hustle and bustle of Havana, you'll find that Vinales jumps to the other end of the scale.
The pace of life is simply much slower, calmer, and more serene than Cuba's capital city.
Visitors often describe Vinales as being in slow motion, so if you're looking for a relaxing break away from all the stresses of city life, this is definitely a spot you'll want to visit.
In fact, the pace of life this destination is known for even leads to it being satirised, and joked about in many other parts of Cuba.
But you don't see us laughing! I can't get enough of Vinales and I'm confident that you won't either the second you pull up towards the valley's.
The Mogote Hills
The mogote hills are probably the most enticing views this destination has to offer, and it's certainly not hard to see why.
These rock formations are completely natural and are dotted throughout Vinales landscape.
And if you're wondering how old these formations are; the answer is old.
And we're talking formed 160-million years ago, kind of old. They were actually formed during the Jurassic-era erosion.
Staring at them is an absolutel wonder to behold and it can be hard to actually believe the view is real.
It looks more like a magical film set than it does actual scenery. They stand tall, isolated by flat land all around it.
They are of course, unbelievably photogenic, especially when they are contrasted with the vivid green vegetation that surrounds them.
So you'll want to make sure you have your camera with you, and that your phone battery is full.
You'll be wanting to take hundreds of photos of this view – and even that never feels like enough.
Vinales Valley Is A UNESCO World Heritage Centre
Vinales Valley was bestowed this title, due to the farming methods used here and for its unmatchable unique landscape.
To this very day, horses, ploughs, and human hands are the most oftenly used agricultural techniques,
These methods are often commended for being very eco-friendly.
You'll find the footprint of Vinales to be significantly smaller than that of most other destinations.
What's more is that it definitely gives the destination a feeling of being transported back in time.
There's Loads Of Activites Available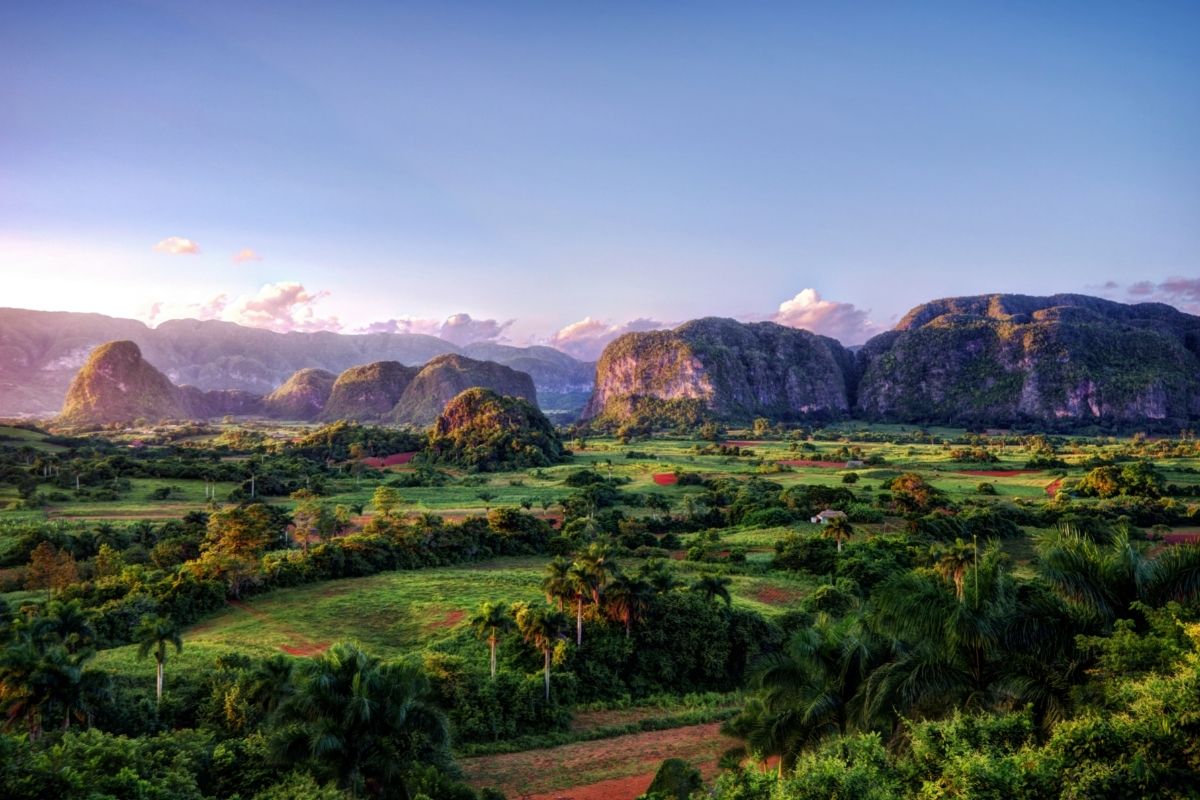 While the town for certain, gives off an oldy-worldy vibe, and you are at one with nature, one thing it is not is boring.
Many people can be deterred from visiting this place as they search for modern thrills, but there is nothing more thrilling than leaving all the modern technology behind and getting back to basics.
If you do take a trip to Vinales, you'll have a whole host of activities you can choose from.
The destination has adapted and added many new activities due to the more recent influx of tourists and visitors.
So what can you do? Hiking is a very popular activity, given the stunning views.
Opt for a hike with a professional local guide who will be able to not only go into the rich histories of the land, but can choose the optimal route as well as keep you safe.
If you want to see the scenery but aren't a fan of walking long distances you can also now pick up a bike from the newly added bike rental.
Alternatively, if you're more of an animal lover you can also arrange to go horse-riding.
This is my favourite choice and you certainly couldn't ask for a prettier place to go riding.
And if all of this is still not your style, and you're more of an adrenaline junky, there's perfect terrain for rock climbing.
There are also museums, churches, gardens, and much more.
The Food And Drink
Since agriculture is so significant, it's no surprise that the fresh food is renowned for being delicious.
Whether you eat in one of the destination's restaurants, a local home, or a guest room you will be blown away by the local cuisine.
As the land is so fertile and bursting with fresh fruit and vegetables, it is the ideal location for vegetatians and vegans.
But don't fret, if you're a meat lover there will also be plenty of options for you too. A spit-roasted pig is often a fan-favourite.
When it comes to picking your drinks, any coffee lover needs to try the Cuban coffee.
Home grown here it is by far one of the best roasts that you'll ever try. What's great is that more often than not it's organic too.
Tobacco Plantations
Unless you've been living under a rock, I'm pretty sure you'll have heard of Cuban cigars.
And for centuries they have been coveted throughout Vinales Valley.
One activity for your day could be to head to a plantation, you're sure to learn a lot.
You can see where production begins as local workers cultivate the leaves at their plantations.
They're also beneficial to the valley as they add a burst of colour to the landscape with deep greens and emeralds being seen throughout.
Of course, if you are a cigar connoisseur, you're going to want to purchase one of these for yourself.
It's unlikely that any cigar you've had before will come close to the ones produced here.
And if smoking a cigar is not really your thing, let's face it they're not the healthiest, then the hike around the fields is still an unmissable pretty scene that you won't want to miss.
The Wildlife
With enhanced and bountiful flora, it's no surprise that there is also a rich and diverse amount of wildlife in Vinales.
The standout for me, personally, would have to be the wide variety of birds that you'll see. The colors in particular are breathtaking.
Throughout your hike you'll be likely to hear the sounds of the hummingbirds, and catch glimpses of the mocking birds too.
But it's the island's native bird, the Cuban Trogons that are the best find while hiking.
The Mural Of Prehistory
On the side of one of the Mogote hills is a stunning piece of artwork that was created in the 1960s.
Designer Leovigildo Gonzalez Morillo spent four years creating this masterpiece with the help of 18 other workers.
As you may have guessed from the name Mural of Prehistory, the mural depicts part of Cuba's prehistory right through to the ascent of humanity.
If you take a close look you'll even be able to see a few animals. Try and spot the huge snail, or the dinosaur upon the walls if you do visit.
It's really vividly painted with bright colors and pictures will never do it justice, it needs to be seen in person to be truly appreciated.
The Indian Cave
Known by the locals as the 'Cueva del Indio' this Indian cave was an ancient home for many indigenous residents of Cuba called the Guanajatabey.
Fast forward some significant time, and the cave can now be entered by tourists via a speed boat.
Often guides will take you through the caves telling you ancient scary stories along the way.
To give it even more ambience the caves are lit with nothing more than dim artificial lamps.
Final Thoughts
Although it may not be as popular as some of Cuba's other hot destination points, it is as beautiful, if not more beautiful than the thriving city of Havanna.
Add Vinales to your Cuban itinerary today!
If you enjoyed this article, you might enjoy our post on 'How To Send Money To Cuba'.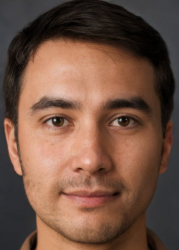 Latest posts by Jim Stanton
(see all)