All year round, Cuba is one of the greatest places in the world to enjoy the beach the right way: relaxing under the sun and drinking an iced cocktail!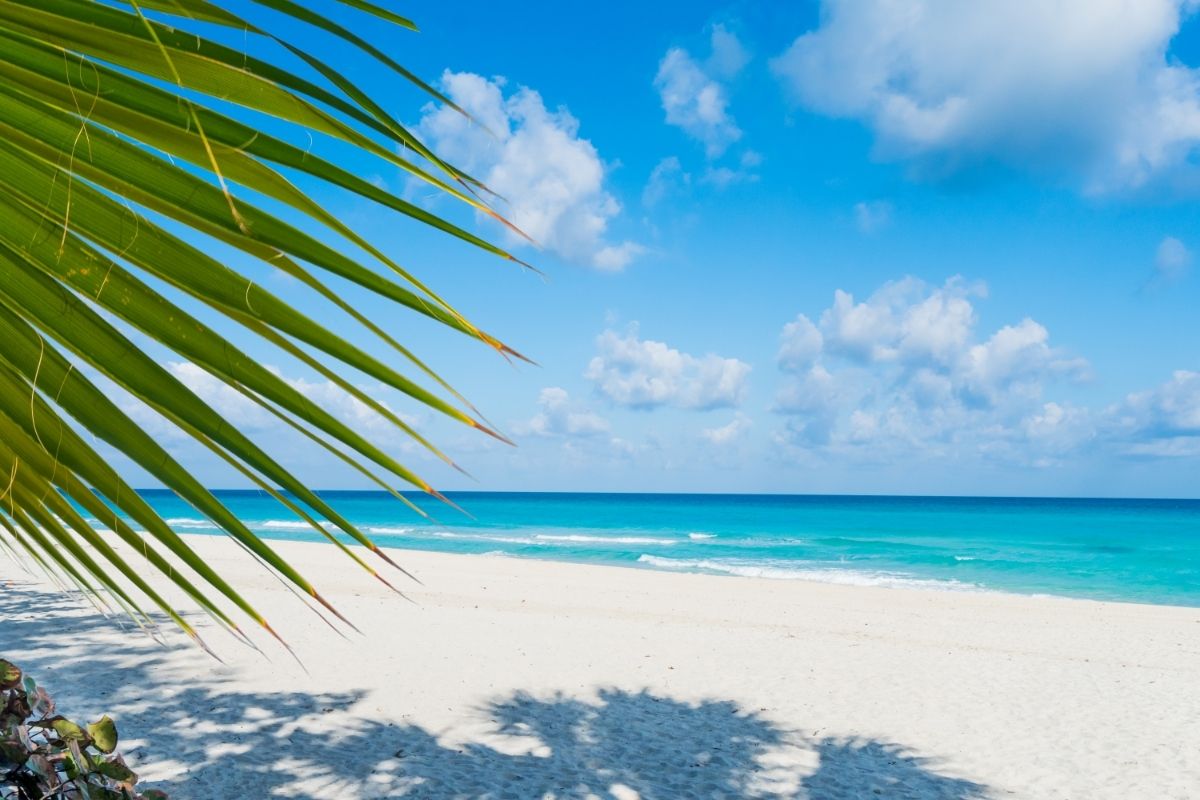 After a day of visiting the attractions of the Cuban capital, nothing beats a stop by the Cuban beaches for some much-needed relaxation.
So, when that time of day hits and you want to enjoy the sea, sand, and your margarita, where should you go to Havana, Cuba?
Keep on reading to find out the top 5 beach spots you have to visit when in, or near Havana!
1. Go To Santa María Del Mar For A Fiesta By The Beach
Playas del Este, the greatest and most well-known of all the beaches in Havana, is practically a magnificent coast that stretches across nine kilometers and has a variety of beaches.
Of them, Santa María del Mar is the best one to go to if you want to party by the beach until the sun comes down… and then up again!
To get to Santa María del Mar, a cab ride from Havana will take roughly twenty minutes. During the summer season, and especially during the summer months, it is very difficult to find a place to sit on the beach, or even leave your towel.
The summer parties at Santa María Del Mar begin early in the morning and never really end, so it is always packed with people and party vibes.
While the beach is technically still part of Havana, it gives you the sense that it is a separate seaside resort that functions autonomously. That is one of the reasons why many visitors prefer to stay there rather than in Havana.
However, if you want to get the most out of Santa María del Mar and enjoy it to the fullest without much noise and crowd, the beach is actually at its best before and after the summer months, especially in May and October, when the weather is still beautiful, but the tourists aren't as many.
2. Want The Sun But Not The Salsa? Playa Boca Ciega Is Your Haven
Playa Boca Ciega, a beach further along the shoreline of Playas del Este, is, what one could say, the polar opposite of the Santa María del Mar beach.
This beach is much less congested and does not get that many tourists, which is one of the main reasons why locals love it so much.
This hidden gem is only a short drive from Santa María del Mar, yet it feels like you are being transported to another island.
The reason why it is not that popular with overseas tourists is that it is not as organized and cosmopolitan as other areas of Playas del Este, where they can enjoy the Cuban sounds, dance, and drink.
However, this means that Playa Boca Ciega can be a secret paradise to those who prefer to stay away from the noise, at least when it comes to enjoying a day by the beach.
In addition to that, even when the day calls for a cold cerveza, the nearby bars and restaurants are way cheaper and less crowded. This way, you can still enjoy your drink and party your own way!
3. For A Full Day Of Relaxation, Don't Miss Playa Guanabo
Playa Guanabo, another section of Playas del Este, is also very popular with the residents and the people of Havana.
Guanabo is a town on the outskirts of Havana one can easily spend an entire day exploring and, of course, relaxing by its beach.
As for the little town of Guanabo, it is so quaint and lovely that it seems very strange that more people do not get the urge to discover more of this tiny piece of heaven.
While a day the in Playa Guanabo might be enough for some, staying there until the sun goes down offers an unforgettable experience in the town's smalls bars and restaurants, where you can have an amazing night ala Cuba without the all the frenzy of the other crowded places like Santa María del Mar.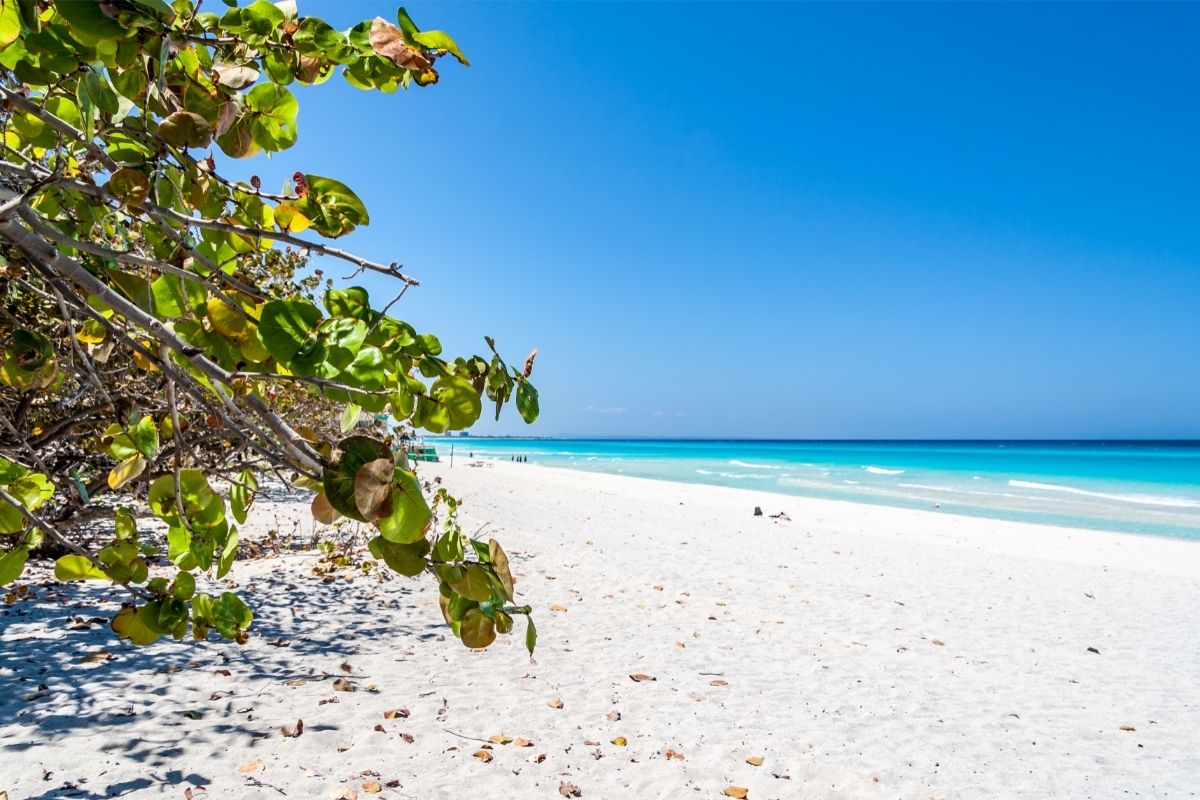 4. For A Short But Fulfiling Experience, Playa Bacuranao Is The Place To Go
If you're short on time but still want to enjoy the Cuban beach to the fullest, Playa Bacuranao is the nearest beach to Havana.
Its coral reef is a major attraction, so don't be surprised when you see the water always crowded with snorkelers. Actually, why not bring yours too?
This is yet another great option for those who love the sea, the sun, and the less crowded salsa! A substantial proportion of the people on Playa Bacuranao are citizens of Havana looking to unwind after a hard day at work.
While it is probably the best beach to go to when you are in a hurry or want to relax after a long day of exploring Cuba, the reason why this beach is not as busy as others in Playas del Este is that the sand is not very smooth, but a bit rocky.
So, if you are all about the golden beach and the soft sand beneath your feet, you should probably head elsewhere.
However, it is certainly worth at least a try, and I bet you'll see that the difference in its sand doesn't make this beach any less attractive!
5. Sun And Salt In Playa El Salado
From the moment you take a dip in the water of Playa El Salado, what you discover is quite unusual. While the water is nice and gentle, it will feel and taste different from other seas.
Of course, it's not like you are going to intentionally drink the seawater, but some will end up on your lips and you'll immediately realize just how salty it is being conscious of the salt.
With its name translated as "Salty Beach," Playa El Salado is about thirty minutes away from Havana and it is really one of the most outstanding Havana beaches, hence why it is on this list.
Playa El Salado is not only mesmerizing, but its waters offer some great benefits to your skin thanks to the large quantities of salt they have. It's a win-win situation!
While this beach is not the place to go for parties, it is nonetheless another beach in Havana that gets many visitors thanks to its unique waters.
And because Cuba is a big party, especially in the summer, you might as well have some fiesta time there too.
Summary
We hope you found this article useful and inspiring for your next trip to Cuba. Havana is known to have some of the best beaches in the world and these 5 on our list are definitely the best ones. So make sure not to miss out on visiting them – it is absolutely worth it!
If you enjoyed this article, you might enjoy our post on 'History Of Cuban Sport'.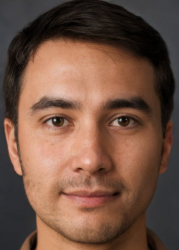 Latest posts by Jim Stanton
(see all)