If you're planning a trip to Cuba, I'm sure you'll be wanting to bask in that brilliant Caribbean sunshine while you sit on those white sandy beaches, so picking the best time to go is essential.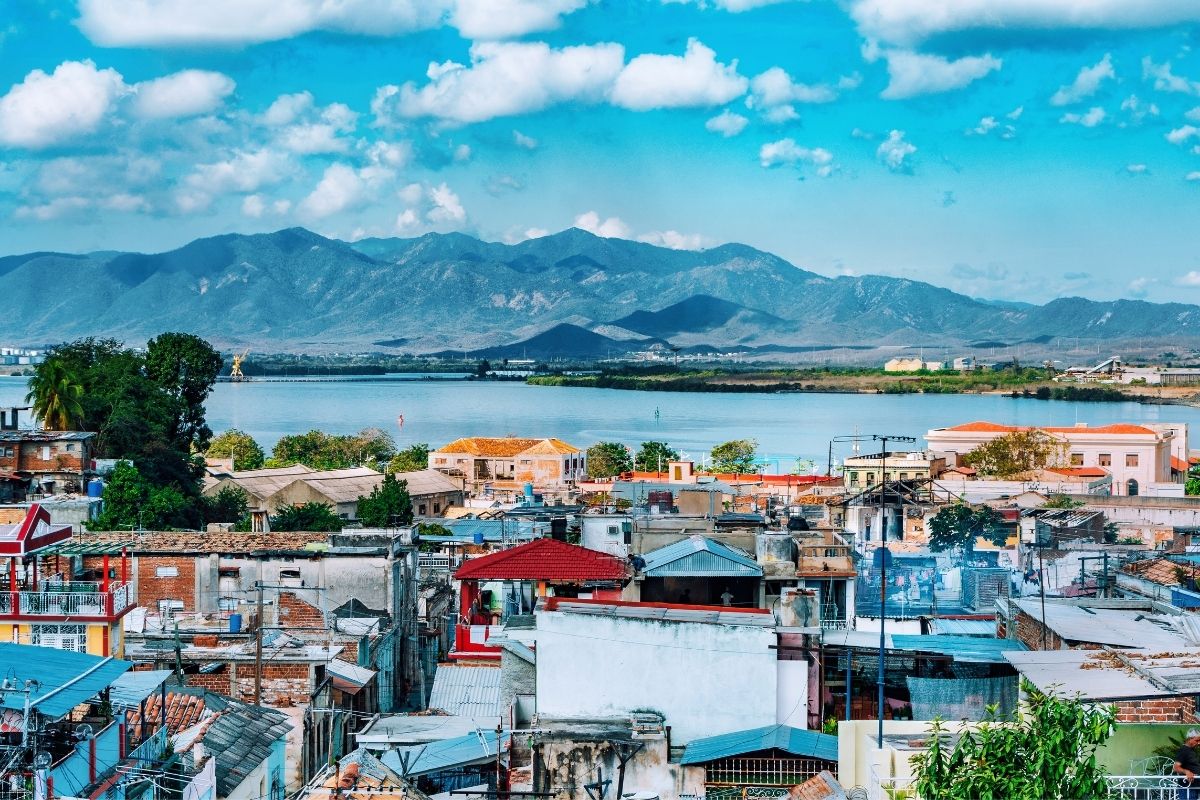 The Cuban climate is tropical and the climate will tend to be fairly uniform across the whole island, however, there can be a few differences from time to time, which we will talk about later in the article.
Usually, you can expect Cuba to be fairly dry and relatively cool from November-Mid April.
While From Later April to early November you should expect it to be quite muggy.
Overview
The Annual precipitation tends to be anywhere from 1,000 – 1,500 mm or 40-60 inches.
You'll tend to find less rain in the south of Cuba where the mountains can be found and much more rain towards the north-facing slopes.
If you visit Cuba during the winter months you'll be pleasantly surprised to find that it's pretty warm.
In Havana, you'll be looking at around 80 degrees Fahrenheit and that increases again if you move towards more southern areas.
Rain won't be all that frequent but there's definitely still a chance of it.
You're more likely to come across rain towards the north as a cold air mass from the United States reaches the island.
This can lead to colder weather during December and will continue into March. At night in Havana during these times temperatures can drop to about 50 degrees Fahrenheit.
This cold air doesn't tend to reach the southern and northwest sides half as much.
In fact, in places such as Guantanamo, you'll very easily be able to go on excursions in the city and even take a dip in the sea as it is usually warm.
However, although the sea may be warm the sun isn't always guaranteed.
If you visit during the rainy season, you'll find it to be so muggy it can almost be too much to cope with, even when a breeze.
The hottest months by far are July and August when the daytime temperature can sore to 93 degrees Fahrenheit and above.
The moisture that hangs in the air also makes this all the more sweltering. When it does rain, it's usually very severe.
The rain is usually accompanied by thunderstorms that tend to happen in the later afternoon.
If you want to try and avoid these downpours, you may want to try and visit during July when there are often breaks from the rain, particularly in the south.
However, it's important to note that if you do visit then the heat will still be pretty intense so you'll want to pack plenty of suntan lotion.
The North-West Of Cuba
Here, you'll find during the winter that it's quite warm, however, it will be cooler compared to other parts of the island.
This is because of the cooler air that comes across from America, bringing some cooler, windier, rainier weather with it.
More towards the southeast in places such as Cayo Guillermo and Cayo Coco this cold air doesn't tend to reach as much, but on the north side of the island, you are definitely more exposed to the slightly worse weather.
It can get a little bit colder in these parts from December through to March.
Havana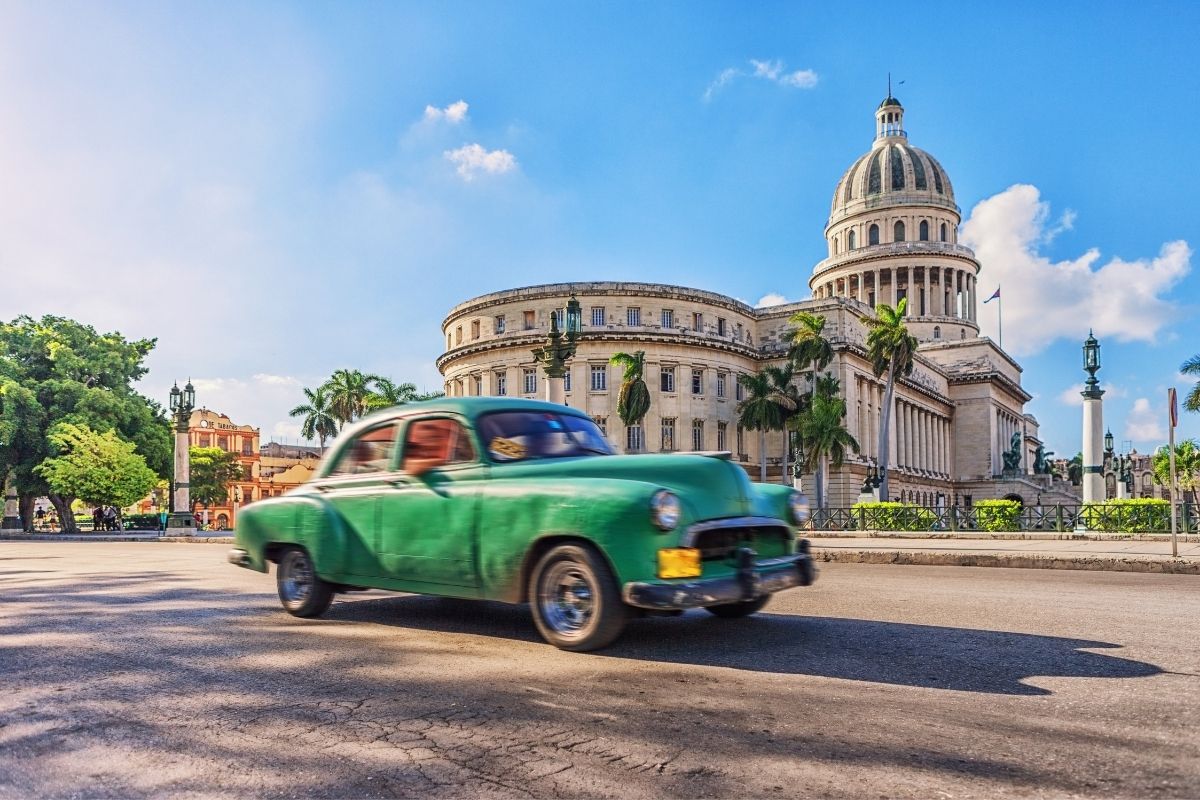 One of the most popular tourist destinations in the northwest of Cuba is its capital Havana.
Here's what you're minimum and maximum temperatures (Fahrenheit) will look like for each month:
January – 66 – 81
February – 66 – 82
March – 67 – 83
April – 70 – 86
May – 72 – 87
June – 75 – 89
July – 75 – 90
August – 76 – 90
September – 75 – 90
October – 74 – 87
November – 70 – 83
December – 67 – 81
Just as the temperature of the island is super important to think about while you're away, you might also want to consider how long the sunshine is out for.
Below you'll find a list of the average amount of hours of sun per day for each month.
January – 7 hours per day – 215 per month
February – 7 hours per day – 205 per month
March – 9 hours per day – 275 per month
April – 9 hours per day – 275 per month
May – 8.5 hours per day – 260 per month
June – 8 hours per day – 235 per month
July – 9 hours per day – 275 per month
August – 8.5 hours per day – 260 per month
September – 7.5 hours per day – 225 per month
October – 6.5 hours per day – 195 per month
November – 7.5 hours per day – 220 per month
December – 7.8 hours per day – 195 per month
Now, no holiday is really complete without a good swim in the sea, it's usually warm enough to swim in year-round, as you'll see from the list below, but there are water temperatures (Fahrenheit) per month.
January – 77
February – 76
March – 77
April – 79
May – 81
June – 83
July – 85
August – 86
September – 85
October – 83
November – 81
December – 79
South East
So now you know about the North West but what about popular destinations towards the South East.
Well, these tend to be a little warmer as you'll see below.
Santiago de Cuba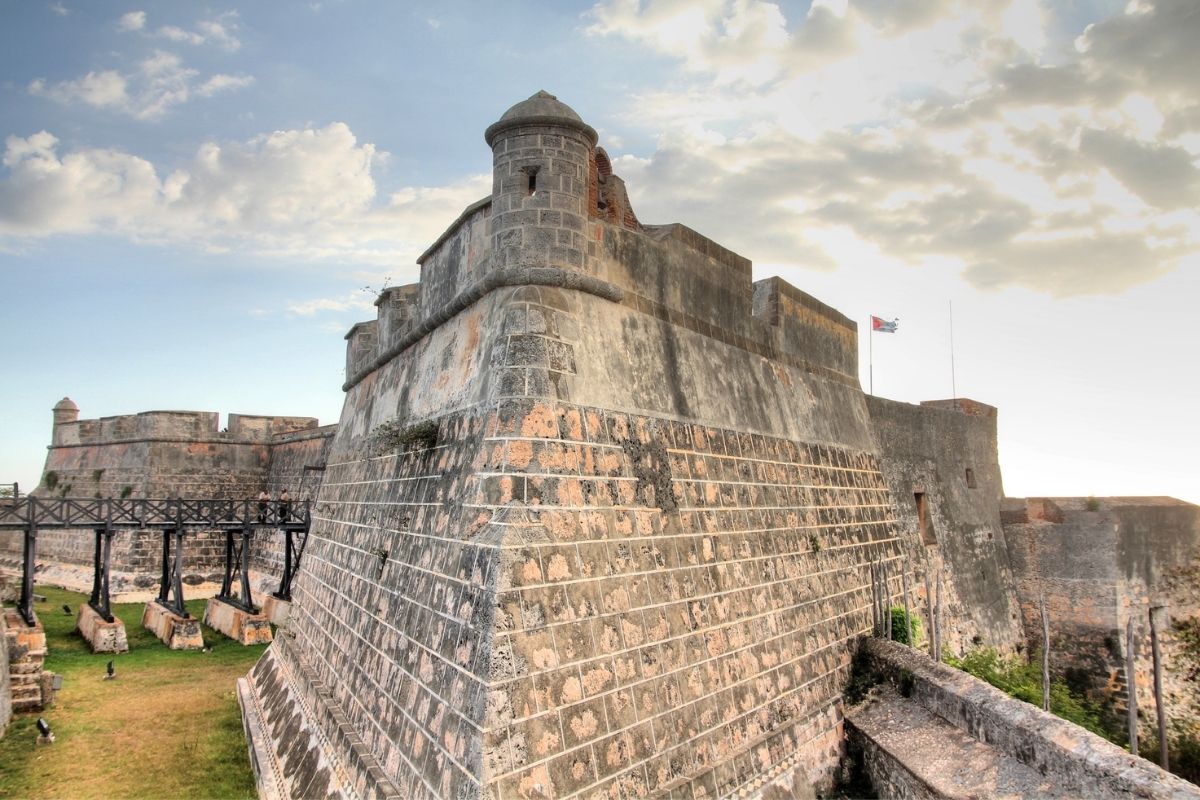 Average temperatures per month (Fahrenheit)
January – 69 – 83
February – 69 – 83
March – 69 – 84
April – 72 – 85
May – 73 – 85
June – 75 – 87
July – 75 – 88
August – 76 – 89
September – 75 – 88
October – 75 – 87
November – 73 – 86
December – 71 – 84
Average precipitation in inches and days per month
January – 1.2 / 3
February – 0.7 / 2
March – 1.6 / 4
April – 2.8 / 6
May – 5.9 / 10
June – 5.1 / 11
July – 2.2 / 6
August – 3.7 / 9
September – 5.9 / 11
October – 8.5 / 14
November – 3.9 / 7
December – 1.2 / 3
Average sea temperature (Fahrenheit)
January – 80
February – 79
March – 79
April – 80
May – 82
June – 83
July – 84
August – 85
Septmeber – 85
October – 84
November – 83
December – 81
Hurricanes
Hurricane season is something that you'll tend to try and avoid.
Hurricane season in Cuba is usually between June and November.
These usually affect the eastern part of Cuba the most and they're most likely from August to October.
While they may not happen often, they can be very destructive so you may want to avoid these months if you wish to err on the side of caution.
Final Thoughts: When Is The Best Time To Visit Cuba
Theoretically, you can visit Cuba at any time of the year, but there are times that I would recommend more than others.
From May to October, you may find the weather a bit too much if you're planning lots of excursions as the heat really does bear down on you.
If you do really wish to have a summer holiday though, I would opt to go between June and July as the weather will be much more preferable to August and September and you'll have a lower risk of being caught in a hurricane.
The dry season is always another good option where it's a little bit cooler, but if you're hoping for a beach holiday I would say to visit the southeast as it'll be a little bit warmer.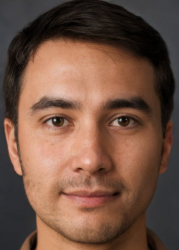 Latest posts by Jim Stanton
(see all)